Spring Season!
Our Spring Rehearsal season begins Sunday, January 18th.
Rehearsals will be weekly at 6:30 PM in St. Mary's Star of the Sea parish hall under the direction of Leslie Lewis with Lisa Lanza accompanying. Registration will be between 6 to 6:30 PM on the first 2 weeks. The Spring 2015 performances will be on April 17th, 18th and 19th. (details will be available on our concert page soon). Upcoming concert information can also be found on PTguide - City Guide to Port Townsend, Washington For more information please email Pat Hartman or call her at 385-0405.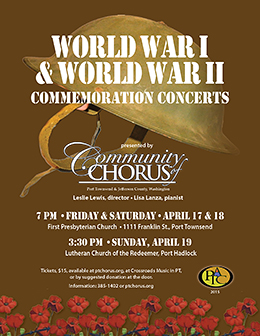 The Community Chorus of Port Townsend and E. Jefferson County, Washington is a non-profit, educational, artistic, and recreational organization established exclusively to benefit the general public, for which it provides music and from which its membership is composed. We are committed to rehearsing and performing choral repertory at the highest level of choral artistry achievable by the members.
The chorus has two seasons a year, normally culminating in two concerts per season. Winter or holiday concerts are generally in early December and the spring concerts are generally in April or May. We are often accompanied by orchestras of talented local musicians. We encourage participation by experienced and novice singers 16 years and older. Part of our mission is to provide a forum for those who are returning to choral music.