Winter 2023
"Magnificat and songs of the season"
"Magnificat" by John Rutter along with an assortment of Songs of the Season, including "Christmas Goes Classical", "S'Vivon", "GRINCH!", "Home For the Holidays" and "White Christmas"

Director: Sarah Moran
Soprano; Leslie Lewis
Piano: Liz Hopkins
Guest organist; Noah Smith

PAST CONCERTS
Spring 2023
"Let Us Entertain You!" From the Gershwin Brothers, Rodgers and Hammerstein and Lerner and Loewe to Styne, Sondheim, ABBA and Lin-Manuel Miranda and others; Broadway melodies and lyrics form a soundtrack to the 20th century. The chorus performed selections from "The Sound of Music", "My Fair Lady", "Les Miserables", "Oliver", "Mamma Mia", "Carousel", "Funny Girl", "Gypsy" and"Hamilton".

Director: Jon Stafford
Piano: Liz Hopkins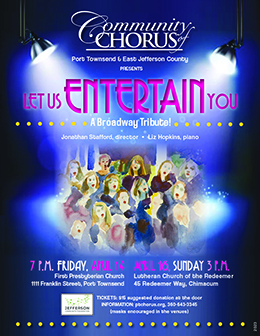 Winter 2022
"We Rise Again" featuring many of the choruses' favorite songs of hope and inspiration.
Special guests: Wild Rose Chorale

Directors: Sarah Moran and Jon Stafford
Piano: Liz Hopkins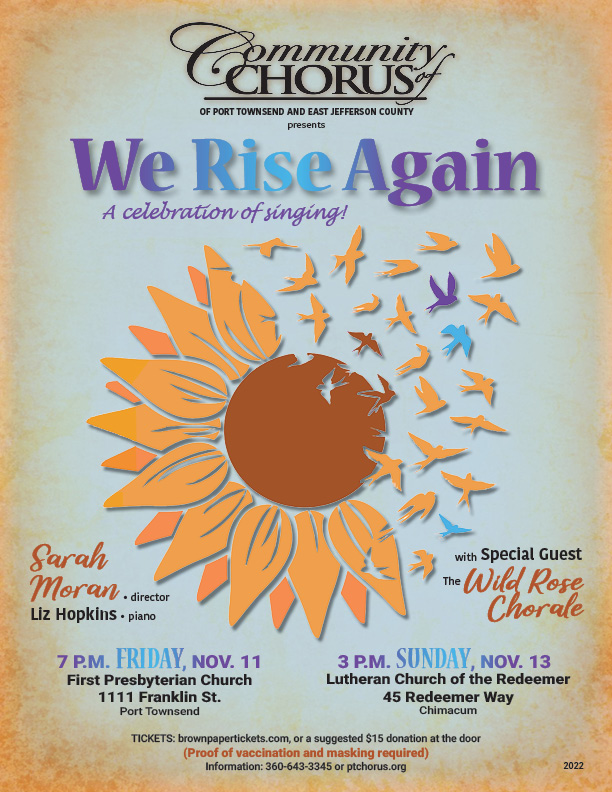 Winter 2019
"Brightest and Best" featuring The World Beloved: A Bluegrass Mass And Songs of the Season

Directors: Sarah Moran and Jon Stafford
Piano: Liz Hopkins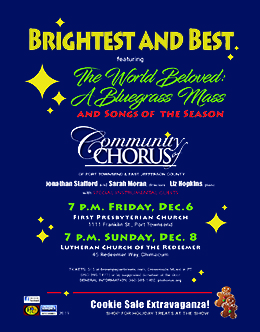 SPRING 2019
"Leonard Bernstein,
A Centennial Celebration"

A selection of better known and lesser known pieces from West Side Story, Candide

Director: Leslie Lewis
Piano: Lisa Lanza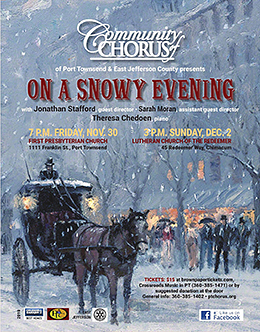 SPRING 2018
"His Light Still Shines"

A commemoration of the Civil Rights Movement, in honor of the 50th anniversary of the assassination of Dr. Martin Luther King, Jr. with a special collage of spirituals and Dr. King's writings/speeches. It's hard to believe it's been 50 years since the day that Dr. King was killed. The late 1960s were a time of tumult. Many of us lived through it, either witnessing from the sidelines or out in the streets or battlefields in one way or another. The 2nd half was lighter, with songs of the late 1960s.

Director: Leslie Lewis
Piano: Lisa Lanza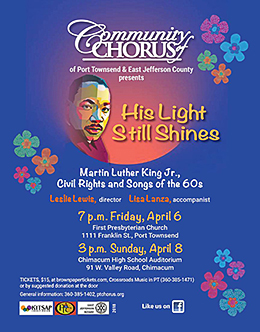 Spring 2018 Youtube Video
WINTER 2017
"The Spirit of the Season"

Tina Grewell: "...a wide variety of music to satisfy the advanced singers and yet entice novice choristers too... The Spirit of the Season will no doubt be another great Community Chorus event not to be missed!"

Director: Tina Grewell
Piano: Diane Thompson
SPRING 2017
"Honoring the 100th anniversary of our National Park System
and Songs of Hope and Inspiration"

Director: Leslie Lewis
Piano: Lisa Lanza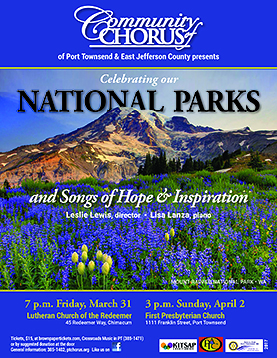 WINTER 2016
"Come To the Music"

a collection of holiday music
ranging from classical to traditional
to contemporary jazz.

Guest Director: Tina Grewell
Piano: Diane Thompson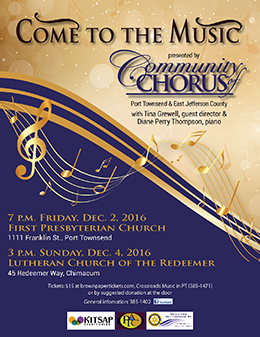 SPRING 2016

"Come, Let Us Sing"
a cantata by
Felix Mendelssohn-Bartholdy.

The second half, themed "And the Oscar goes to…" was a collection of songs from films from the 20th century into the 21st.

Director: Leslie Lewis
Piano: Lisa Lanza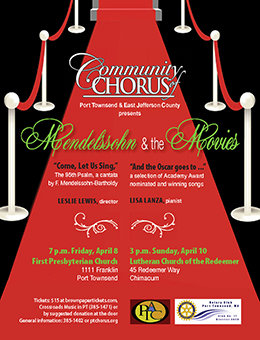 WINTER 2015
MESSIAH
by
Georg Friedrich Händel
Director: Rebecca Rottsolk
Piano: Lisa Lanza

PTCC celebrated its 40th anniversary by singing George Frideric Handel's "Messiah," a tradition in the group's history that has been observed every five years, and the final program with director Rebecca Rottsolk, who has directed the group for 10 years.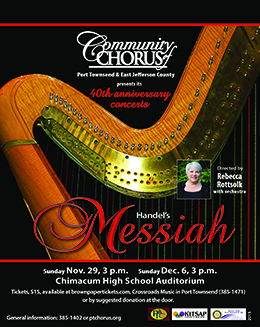 SPRING 2015
Director: Leslie Lewis
Piano: Lisa Lanza

Guest musicians: Kim Clarke, trumpet; Jim Goldberg, drums; Victoria Poling, violin

Guest appearance by Exact Change, a women's vocal ensemble.
With songs of the two eras, the program commemorated the 100th anniversary of the start of World War I and the 70th anniversary of the end of World War II.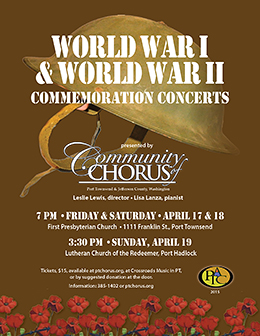 WINTER 2014
"Gloria Fanfare"

Director: Rebecca Rottsolk
Piano: Lisa Lanza;

A multicultural celebration including African songs honoring Nelson Mandela, plus a host of holiday favorites.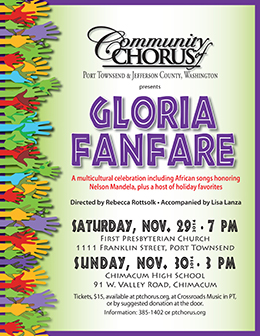 SPRING 2014
"A Night at the Opera, A Day in the Country"

Director: Leslie Lewis
Piano: Lisa Lanza